Gator catching a few rays.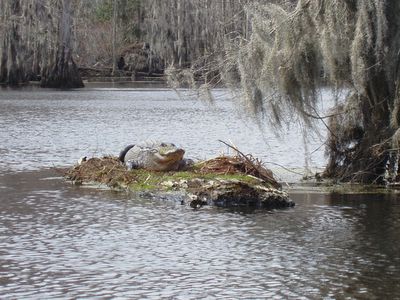 There was a brisk wind blowing on the pond today as we led a group of college students out to learn a little bit about the plants that grow here. Since we had some novice canoeists with us, we didn't want to venture too close to this alligator as it was sunning on a log in the water. I just sort of aimed the camera in the general direction of the log and hoped for the best. My technique yielded a picture that, while not great, is at least recognizable as a gator :)
This particular gator is about six to six and a half feet long. It uses this log frequently but we weren't sure it would be out today. Our temperatures were in the upper 50s to low 60s and there was a fair amount of cloud cover, not ideal conditions for basking. The students seemed to enjoy seeing the alligator and the alligator didn't seem to mind being seen, so all in all it was a good thing.